Dr. Brennan Spiegel Director of Health Services Research
Cedars-Sinai Health System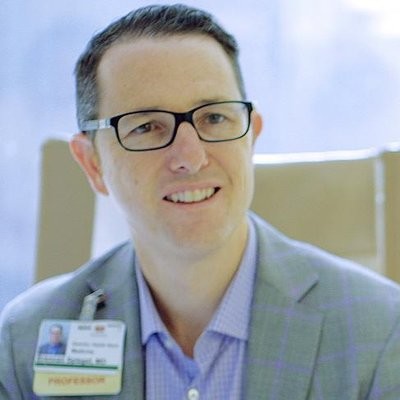 Brennan Spiegel, MD, MSHS, is Director of Health Services Research for Cedars-Sinai Health System, Professor of Medicine and Public Health at UCLA, and Co-Chair of the VR/AR Association Digital Health Committee. He directs the Cedars-Sinai Center for Outcomes Research and Education (CS-CORE), a multidisciplinary team that investigates how digital health technologies – including wearable biosensors, smartphone applications, virtual reality and social media – can strengthen the patient-doctor bond, improve outcomes and save money. CS-CORE unites clinicians, computer scientists, engineers, statisticians and health services researchers to invent, test and implement digital innovations, always focusing on the value of technology to patients and their providers.
Dr. Spiegel has published numerous best-selling medical textbooks, editorials and more than 170 articles in peer-reviewed journals. He is listed in the Onalytica "Top 100 Influencer" lists for digital health (No. 13) and virtual reality (No. 14). His digital health research has been featured by major media outlets, including Bloomberg, the Boston Herald, Forbes, Huffington Post, LA Times, Mashable, NBC News, NPR, PBS, Reuters, and the Wall Street Journal. His virtual reality research won the 2017 "Webby Award" for best technology on the internet.
Dr. Spiegel is editor-in-chief of the American Journal of Gastroenterology, the leading clinical GI journal in North America. He continues to practice clinical medicine and maintains an academic teaching practice at Cedars-Sinai. A prolific speaker, Spiegel is frequently invited to present on his areas of expertise at national and international events. He has spoken at CES, HIMSS, Connected Health, Exponential Med, and Health 2.0, among many other venues. Dr. Spiegel founded Virtual Medicine, the first international symposium dedicated to medical virtual reality (www.virtualmedicine.org) and Directs the Cedars-Sinai Master's Degree Program in Health Delivery Science.