Dr. Carol DerSarkissian Medical Virtualist
Clinical Asst. Professor of Emergency Room Medicine
NYU Langone Medical Center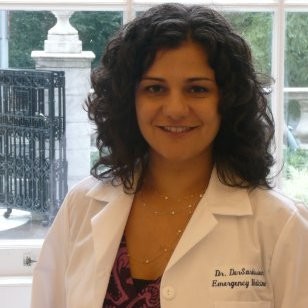 Dr. Carol DerSarkissian brings 20 years of medical practice to virtual medicine.  As an early advocate / champion of experiential learning she is focused on the digital intersection of medicine and technology by incorporating virtual reality as a platform to advance medical education and enhance patient experiences.
Dr. DerSarkissian is a Clinical Assistant Professor at New York University Medical Center where she has introduced a Virtual Reality Medical Education Pilot to the Practice of Medicine course and is incorporating VR clinical simulations into Emergency Medicine and Pediatrics clerkships. Dr. DerSarkissian also co-teaches a XR Faculty Development course at NYU to enable other faculty to initiate XR initiatives for patient care and medical education.
Dr. DerSarkissian also co-chairs the Healthcare, Medicine & Wellness Faculty Advisory Board at the RLab in New York, where she advances medical research, education and entrepreneurship in virtual and augmented reality.
Dr. DerSarkissian is a Board Certified Emergency Physician and is an Oral Board Examiner for the American Board of Emergency Medicine.
Dr. Carol DerSarkissian received her medical degree from the University of Southern California with Dean's Scholar distinction.  She was selected for a one-year OB/GYN internship at Harvard Beth Israel Deaconess. Following her internship, DerSarkissian completed her Emergency Medicine residency at NYU and Bellevue Medical Centers.